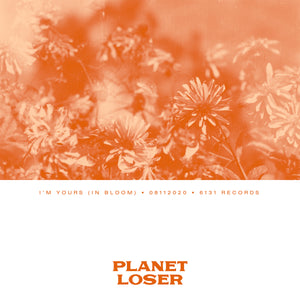 Planet Loser "I'm Yours (In Bloom)" Digital Single
It's not uncommon for those with roots in the hardcore music scene to grow a bit older and start to stretch their figurative musical wings a bit. The creative forces behind Nothing, Cold Cave, Sleigh Bells, and a litany of others all cut their teeth playing in various hardcore bands, honing their skills and, by most accounts, bringing some hard-earned lessons about songwriting that cuts to the chase. Florida's Planet Loser may soon be another of the notable acts among that list.
Started as the project of Ethan Murphy, formerly of metallic hardcore unit Blistered, and his long-time partner Amber Lewis, Planet Loser offered an opportunity for the couple to explore a broader musical palette than Murphy's previous efforts and collaborate together for the first time. The resulting music, recorded entirely by Murphy and Lewis, showcases just how strong the pair's songwriting prowess can be. Each songs feels immediately familiar without being cliché, influenced by classic '80s elements, yet undeniably catchy in a way that comes almost as second nature to those with a punk / hardcore background.
"I'm Yours (In Bloom)" is Planet Loser's third single of 2020 and this time seems them take a more stripped down approach to their sound.
Download link will be emailed to you immediately after checkout.