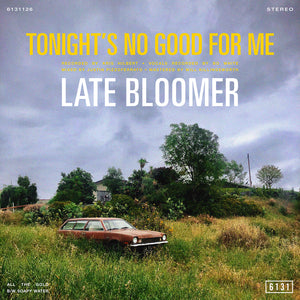 Late Bloomer "Tonight's No Good for Me" Digital EP
Late Bloomer's last album saw a complicated path to completion. The band recorded an entire album, but afterwards, felt the sessions weren't strong enough to release, instead starting from scratch with Justin Pizzoferrato (Dinosaur Jr., Pixies, Speedy Ortiz, Parquet Courts). The resulting album, Waiting, surfaced in 2018 to critical acclaim and the earlier session was shelved.
Now, two songs from that earlier session have been revisited, with Pizzoferrato back at the helm to mix. Combined under the title Tonight's No Good For Me, these songs are an exhibition of Late Bloomer's great songwriting, almost forgotten by complication. Opening track, "All the Gold," finds the band squarely in the middle of their Hüsker Dü influenced punk rock sound (emphasis on "rock"), while "Soapy Water" features an angular, post-hardcore tinge. Together, it's clear these songs are well worth a second chance.
Hailing from Charlotte, North Carolina, Late Bloomer have released three LPs since forming in 2012. Their most recent effort, Waiting, was released in 2018 by 6131 Records, with Stereogum asserting it to be "an album that's as conceptually knotty as it is musically invigorating."
Download link will be emailed to you immediately after checkout.